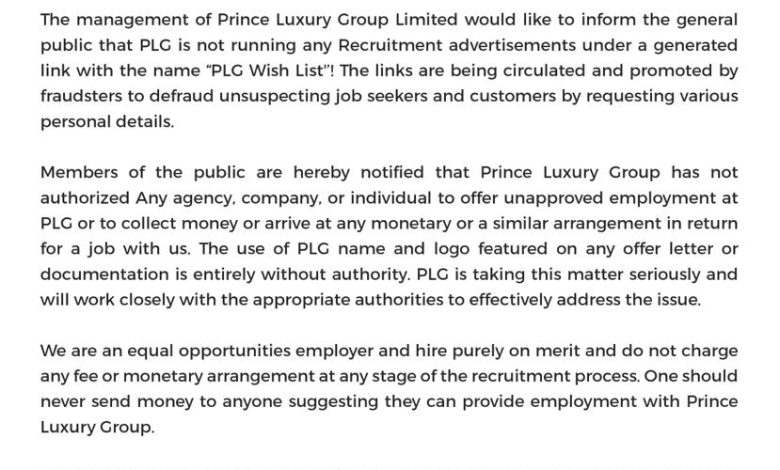 The management of Prince Luxury Group Limited would like to inform the general public that
PLG is not running any Recruitment advertisements under a generated link with the name "PLG
Wish List''! The links are being circulated and promoted by fraudsters to defraud unsuspecting
job seekers and customers by requesting various personal details.
Members of the public are hereby notified that Prince Luxury Group has not authorized Any
agency, company, or individual to offer unapproved employment at PLG or to collect money or
arrive at any monetary or a similar arrangement in return for a job with us. The use of PLG
name and logo featured on any offer letter or documentation is entirely without authority.
PLG is taking this matter seriously and will work closely with the appropriate authorities to
effectively address the issue.
We are an equal opportunities employer and hire purely on merit and do not charge any fee or
monetary arrangement at any stage of the recruitment process. One should never send money
to anyone suggesting they can provide employment with Prince Luxury Group.
All official communication from PLG, including job offers would only come from the domain
PrinceLuxuryGroup.com and only the Human Resources Director at PLG is currently
authorized to extend job offers.
PLG is not obliged to honor any job offer or assurances made by third parties or unauthorized
persons and we will not be liable in any way.
If you have questions or doubts about a job offer, please send us an email at
enquiries@Princeluxurygroup.com or Careers@Princeluxurygroup.com
Signed
Management